10 amazing bedrooms
Tags:
Bedroom
,
bedroom decorating
,
bedroom ideas
We've recently covered amazing bathrooms, where British folk spend a surprising percentage of their lives. But that time pales into insignificance when compared to the decades we spend in bed – generally speaking, we spend about a third of our lives asleep.
These are some of the most amazing bedrooms in the world, along with some tips on how to bring some fresh style to your inner sanctum.
Four poster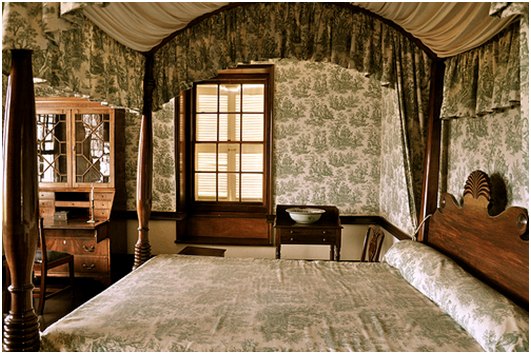 A four-poster bed is one of the easiest ways to instantly turn an ordinary bedroom into something romantic and luxurious. Dark wood such as mahogany or a deep varnish creates a stately impression, particularly when teamed with other period pieces of furniture, such as a dressing table with a table-top mirror and matching chair. Exposed wooden floorboards and a sheepskin rug complete the sense of luxury.
Creating this effect in your own home can be difficult, as a lot of four-posters would take up the majority of the space of an ordinary bedroom and could be too imposing. There are modern four-posters that are made with lighter materials that can work, and some newer designs are four-poster without the curtains. The side-less box gives the same feeling of grandeur without darkening the room.
Stately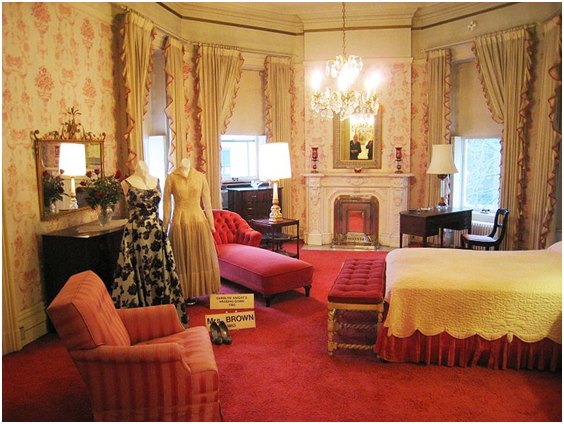 You don't need a four poster for a bedroom to exude wealth and glamour. This bedroom (set up for display at the Governor's Mansion State Historic Park in California) is a perfect example of that. A red chaise longue and ornate mirrors, lamps and curtains combine to create a regal effect in the room, as does the fireplace and red carpet.
In larger rooms there may be space for an armchair or chaise longue, but failing that, a cushioned bench at the end of the bed will go some way to transforming the room, as will patterned wallpaper. Try to keep the carpet and wall in contrast with one another – either a deep-coloured carpet and pale wall, or vice versa. Adding a throw and plump cushions to the bed (if you can be bothered to arrange them each morning) will contribute to the style.
Split-level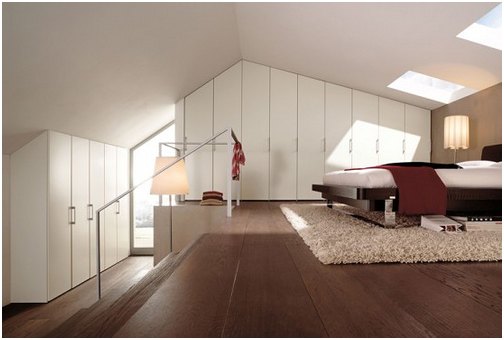 If you have a large and unwieldy space (such as a loft or chapel conversion) then this might be the solution to your bedroom needs. Providing an element of privacy and separation while not physically dividing the space with walls, a split-level room maximises the potential of both bedroom and living areas.
Not all houses will be suitable for this sort of layout, but a surprising number of homes can be modified to this open-plan format. Converting a loft could provide a surprising amount of space between the floor and the roof, and there is no need to elevate the bed level as high as shown in the image. Just one step up would still add something a little special to the room.
Mural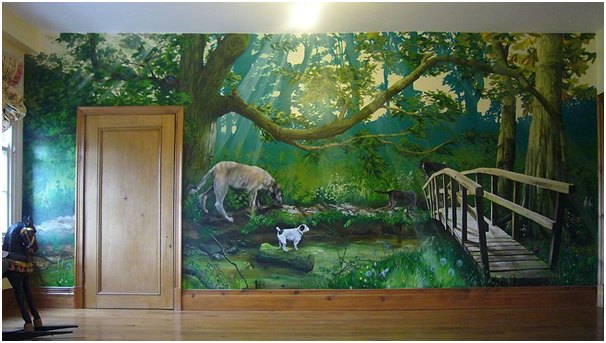 Do you really, really like the forest? The owner of this room clearly does, and has decided to express that with a bright (and perhaps rather garish) mural. It is an interesting addition to a room, and can actually add depth in contrast with a bland wall. One would certainly never tire of looking at it, but if they did it can always be painted over fairly easily.
If you are interested in adding your own mural to a wall, there would be scope for a more modern design. Silhouette murals can look very elegant, and are not quite as intrusive as the bright colours of this design. When deciding on what to paint, considering how the furniture would be laid out in relation to it may help. Placing the bed in the centre of the room with the headboard end against the mural may inspire a symmetrical design, or at least something that has the bed as its focus.
Multi-purpose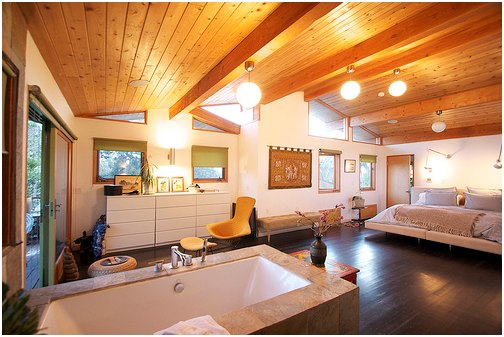 Often the preserve of studio flats, combining bathrooms with kitchens with bedrooms can present a a few challenges. But when it's done tastefully (such as in the photo above) it can make for a vibrant and decadent living space. Studios often try to hide away the part of the room that shouldn't be there, but turning it into a prominent feature makes it seem intentional and can look fantastic.
Even with limited space, don't tuck anything into the corners to create this effect. Choose a good quality bath that has aesthetic appeal – stone as in the picture above or a classic clawfoot bath that looks good as a stand-alone piece. Placing it in the centre of the room with some candles around it will make it a feature rather than an obstacle.
Hideaway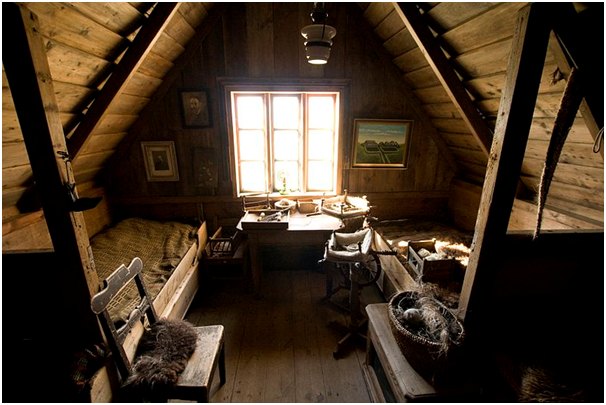 This traditional Icelandic bedroom is a relic from a bygone era, but the design principles are sound. The two bunks here would make this an ideal children's room, and the shape lends itself to attic conversions. It's rustic, cosy, and is enough to make any youngster feel adventurous.
Building your own version of this would be a large task but taking certain elements – the boards, the wooden bunks and the fur on the chair are all relatively cheap additions to your existing theme. For a double room, place the bed in the centre and use the space at the edge of the room for some low, built-in cupboards that could be adorned with cosy blankets and cushions, or even low bookshelves.
Themed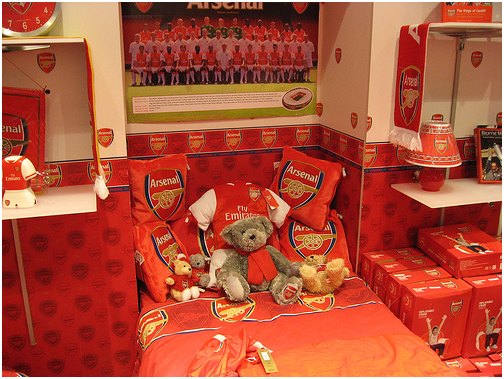 Most people will remember being so obsessed with something that they wanted their whole bedroom to show that. At the point that your child wants their room to be themed, there is very little point in arguing or trying to keep it conservative, so you may as well just go all out. Anyway, the themed room shown above would surely be any Arsenal fan's dream!
No doubt the fan in question will have their own ideas, but buying all the merchandise is very expensive. If you don't want to buy everything available, focus on the big elements – the wallpaper and the duvet set, and then throw in one small thing at the end, such as the teddy bear or scarf that they can carry around with them. Just don't be surprised when they want to change it again a year later.
Industrial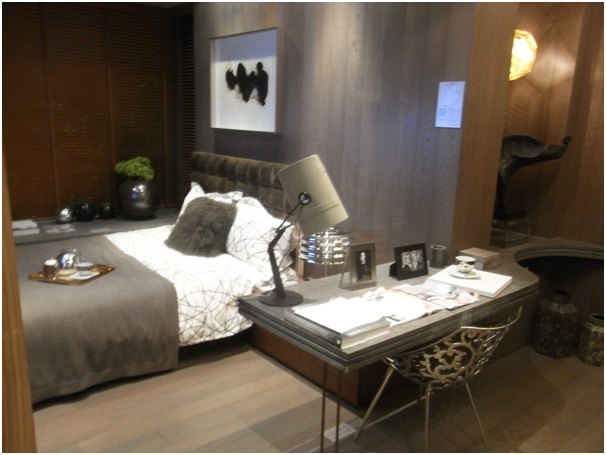 The intense grey of this bedroom contrasts with the small elements of light to highlight them. There is a functional element to the room that is quite refreshing, with the sharp corners and neat lines. Meanwhile, the softness of the shaggy cushion and the curved end of the desk and the vase provide the comfort that no bedroom should be without.
Be careful when choosing to attempt this effect; grey can be very gloomy if it is too dark and can look washed out if it is too pale. Taking different tones of the grey, such as that of the lampshade in the image and the metallic of the chair, gives depth to the room and coordinates it without making it too industrial.
Bohemian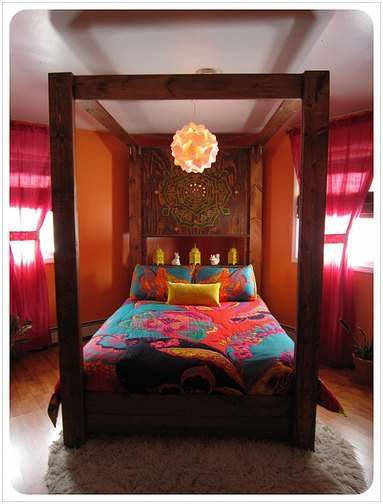 An eclectic mix of cultural influences in this bedroom has been used to brilliant effect. The bright, thin curtains at the windows either side of the bed, the wooden four-poster and the bright, oriental quilt bring a feeling of paradise to the room that could be achieved anywhere (as long as the sun shines at some point).
The temptation with a bohemian style is to gather lots of trinkets, colourful throws and hanging beads, all of which can look brilliant but can be quite tacky. Select the items carefully and don't get carried away, but do have fun with it – bohemian is all about interesting pieces found in interesting places.
Minimalist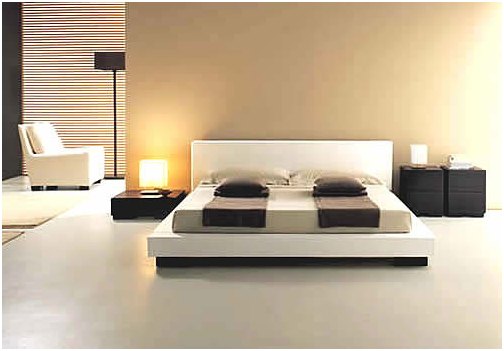 It's not to everybody's taste, but some find a minimalist design to be very peaceful and a good escape from the stresses of everyday life. The less clutter in the room, the better the night's sleep. Straight lines and symmetry – or carefully calculated asymmetry – are key to the striking impact of this design. Even the curved bulbs have been hidden with boxed lampshades and everything is perfectly aligned.
Creating this in your own home is very simple; a light colour on the wall and floor will ensure the room stays light and airy, with nothing on the wall to detract from the minimalism. Low furniture minimises space under beds for any dust or shoes to gather. With so many horizontal lines, the occasional, thin vertical line, as shown by the lamp in the photo, brings the room together and looks fantastic against neat, horizontal blinds. Under-floor heating may be a good idea, as rugs and carpets could impact the effect.
What do you think of these bedrooms? Are you suitably amazed, or do you find the designs here underwhelming? Let us know what your perfect bedroom would contain, and share some examples of brilliant boudoirs in the comment section below.
This article was written by Michael Palmer, a freelance writer and interior design enthusiast writing on behalf of More Than home insurance.
Image of four poster bedroom from Flickr
Image of stately bedroom from Wikimedia Commons
Image of split level bedroom from Flickr
Image of mural bedroom from Wikimedia Commons
Image of multi-purpose bedroom from Flickr
Image of hideaway bedroom from Wikimedia Commons
Image of themed bedroom from Flickr
Image of industrial bedroom from Wikimedia Commons
Image of bohemian bedroom from Flickr
Image of minimalist bedroom from Flickr