10 Amazing Bathrooms
Tags:
bathroom
,
bathroom ideas
We spend a phenomenal amount of time in the bathroom. With both men and women using the loo for more than 18 months of their lives, you'd think the bathroom would be a very special part of the home.
That's rarely the case, though. Too many bathrooms are a slightly apologetic collection of cheap fittings, plastic bath tubs and underpowered showers. That's why we've put together this list of stunning bathrooms which, while mainly out of reach to all but the very rich, might provide inspiration for those wishing to improve the most neglected room in the house.
Outdoors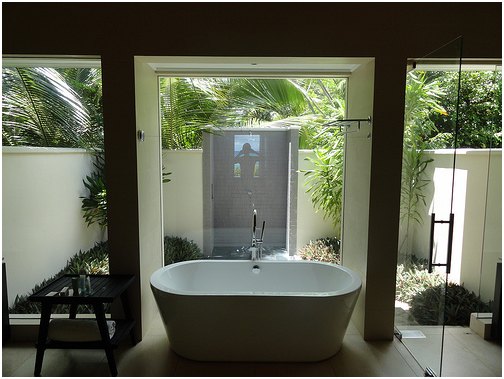 It might not be to everybody's taste, but this is a great example of a bathroom that makes full use of the outside world. Combining privacy with serenity, this bathroom offers a sense of emancipation from indoor life (and the stresses that go with it).
Build on this theme by capitalising on any garden space you have. While the outdoor shower might not be a practical choice for the British climate (this particular bathroom is in the Seychelles) there's still scope to bridge the gap between indoors and outdoors by maximising the effect of the windows.
Earth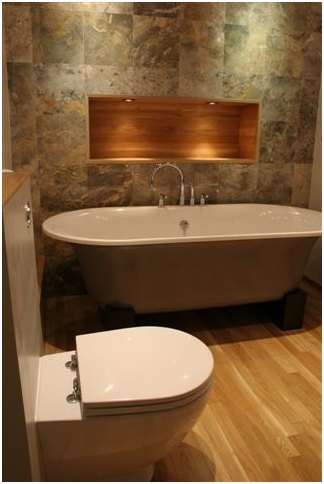 These organic, natural colours create a robust aesthetic for a bathroom. The marbled walls are a particularly strong design choice, reflecting some of nature's most beautiful patterns while conjuring up a sense of decadence and majesty. The bath (reminiscent of the classic ball-and-claw iron baths) is deep and wide.
The effect of this design can be achieved in any bathroom, regardless of the size or shape. Using dark and imposing tiles on one wall can be striking, and the contrast of bold materials with lighter colours and smoother shapes will contribute to the overall effect. Opting for small wall light fittings can create a gentle and relaxing atmosphere, particularly if any alcoves are lit (as shown in the image). Built-in storage cupboards under the sink, for example, will ensure the sleek appearance is maintained.
Cubic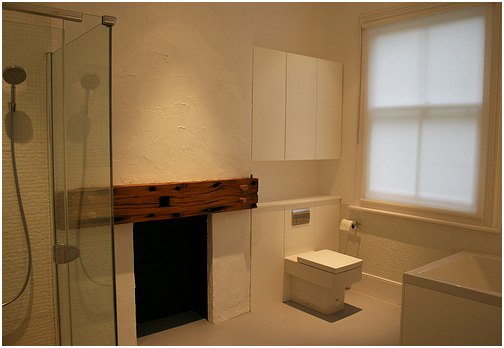 This design is strikingly different to most bathroom designs in that it relies upon angular shapes rather than more traditional curves. The square lavatory is unusual but combined with the rectangular bath and the imposing black void of the old fireplace, it adds to a memorable ensemble. The square windows gently illuminate this modest but impeccably-designed bathroom.
Creating the cubic effect in your own bathroom is simple: keep everything minimal and choose sharp edges rather than curved on all units. Use the same colour for everything – preferably white – and then contrast it with the odd, angular element of black, and maybe indulge in a round feature like the shower head in this photo.
Copper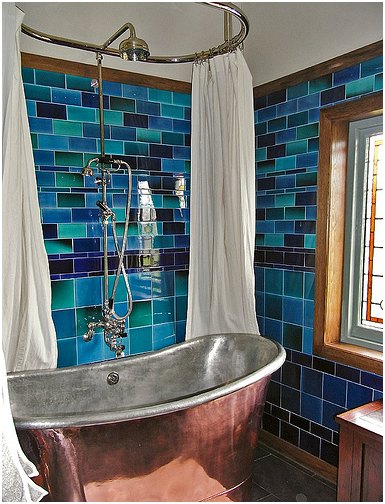 This is another bathroom which breaks the mould – rather than dull whites, beiges, greys and browns, this room is a gaudy cocktail of turquoises and shiny copper. The copper bath is a massive statement and suggests to guests that the bathroom has been taken seriously.
The copper bath adds a huge amount of character to the bathroom, and if you can't get hold of one then other pieces found in vintage furniture stores can have a similar impact. Add to the statement piece – whether it is the unique bath or an interesting mirror – with fun, bold colours and keep your eyes peeled for quirky items such as odd shower fittings and stained glass windows.
Wood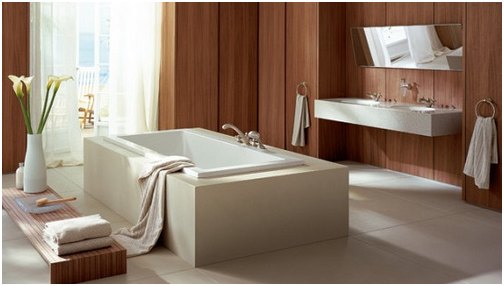 Offering another more cubic design, this serene bathroom immediately instils a sense of calm. Everything from the pastel colours to the delicate flowers makes this bathroom peaceful (in stark contrast to the turquoise-tiled one above). The generous French windows provide a sense of openness and plenty of natural light for a calm and refreshing atmosphere.
Creating the impression of a modern sauna in your own home can be relatively simple. Selecting units and walls of a sleek wood and opting for large, plain tiles will allow for minimal fuss and clutter. Similarly, an elegant vase with a simple plant such as an orchid (something without leaves, branches or petals that could fall) will add a soft touch while maintaining the clean appearance. Use what natural light there is, or install a number of small lights and a large mirror.
Bright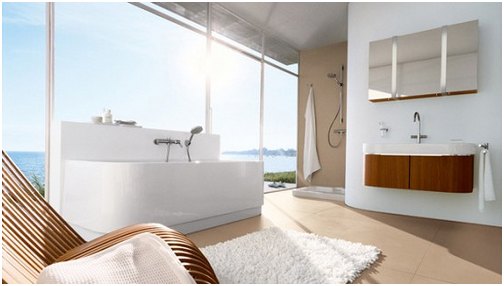 The floor-to-ceiling windows in this bathroom create a breath-taking effect. They flood the room with sunlight and offer panoramic views as an alternative to a tiled wall – this is a great example of how to harness the outdoor world and bring the best bits inside. Just visible is a small area of decking outside the shower – perfect.
Keep the units towards the outer edges of the bathroom to make the tiled floor itself a feature, perhaps with a luxurious and light bathmat. If there isn't much space in the bathroom, keeping the sink off the floor will create more, as will keeping the colours light and adding mirrors to reflect the light that there is. Use the windows either by not having curtains or blinds, or by adding a very neat, simple blind that is compact and the same colour as the walls.
Classic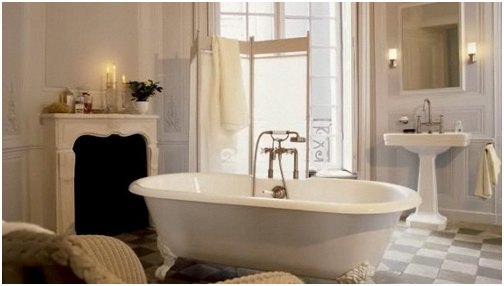 This bathroom showcases some classic features of bathroom design – the mobile screen, the pedestal sink, the soaring full-height windows and the ball-and-claw bath all come together (on the marvellous chessboard floor) to form a pleasant smorgasbord of English architectural eras.
You don't need an old house to accomplish this very English set of styles. Invest in high-quality fixtures and fittings, and most importantly buy a full-sized metal bath. These baths (which can run into the thousands of pounds, so consider buying second hand or from a reclamation yard) are wonderful things to relax in, so it's not just an aesthetic decision.
Compact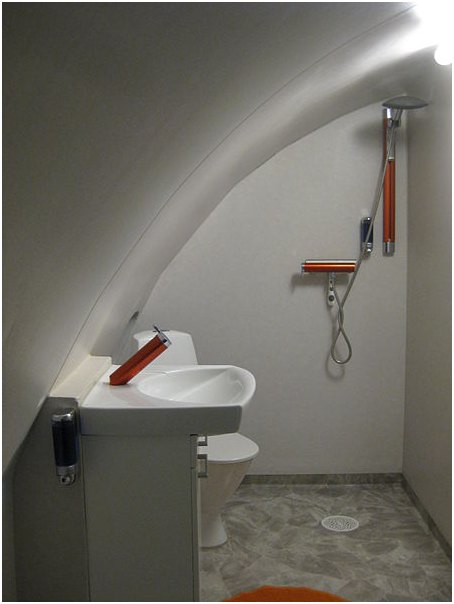 Making use of small spaces comes with its own set of issues and opportunities. This wet room style bathroom is a great example of how to make it work – an airy colour scheme with carefully-planned splashes of colour.
This attic space is not entirely unlike the void found in millions of homes across the United Kingdom. By using bathroom paint and a similar approach to colour, you could easily install this type of bathroom as an en-suite in your home. Of all the bathrooms on the list, this one is the most feasible on a tight budget.
Ornate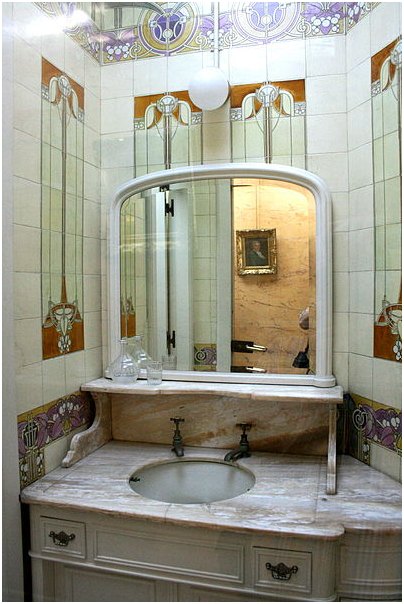 This unusual bathroom design can be found in the Musées d'Extrême-Orient in Brussels. The tile designs are exquisite and the marble sink surround is like the surface of a distant planet. What makes this room feel truly stand-out is the seemingly omnipresent light which originates from well above head height.
This is a hard design to emulate. That said, Oriental-style tiles are relatively easy to come across, both new and second-hand. The taps might seem a small detail, but a set of metal fittings can really make a difference.
Spacious

This room builds on the theme of space by emphasising floor area. The chunky shelves on both sides of the room appear to float, making the space feel much larger than if there were conventional cupboard units. The end wall brings a huge amount of light into the room and the candles (a popular part of any bathroom, large or small) turn an already-pleasant space into something special.
It's the wooden floors that really set this room up. Gentle Scandinavian influences can be found in all parts of the room – consider using a uniform wood throughout the bathroom to maximise this effect.
Been inspired by this list? Or do you have a bathroom you want to show off? Get in touch using the comment form below, and let us know what you'd have in your perfect bathroom.
This article was written by Michael Palmer, a freelance writer and interior design enthusiast writing on behalf of MORE TH>N. These are his own thoughts and do not represent the views of MORE TH>N.
Image of Outdoors bathroom from Flickr
Image of Earth bathroom from Flickr
Image of Cubic bathroom from Flickr
Image of Copper bathroom from Flickr
Image of Wood bathroom from Flickr
Image of Bright bathroom from Flickr
Image of Classic bathroom from Flickr
Image of Compact bathroom from Wikimedia Commons
Image of Ornate bathroom from Wikimedia Commons
Image of Spacious bathroom from Flickr