Color tips
Tags:
color
,
color tips
,
colors
What type of room would you like? Bright, soft, warm, or neutral? Look at your floors, carpets, or a large piece of furniture that you already have, that will be your starting point. Pull out one of the colors that you want to be your primary color.
Then choose one or two of the colors to be your accent colors. When choosing colors bear in mind how color can influence your room.
BLUES
Cool and calming and restful

Very popular color for bedrooms

Good for rooms with southern exposures.

Accent colors gold and terra cotta
REDS
Stimulating

E

xciting

G

ood for rooms with northern exposures
GREENS
Cool, reflecting on nature

Green complements most colors

Good for rooms with southern exposures

Team up your greens with with soft peach and terra cotta

Soft greens mixed with natural colors create a relaxing and restful room.
YELLOWS
Bright and cheery.

One of the most popular colors in kitchens.

Bright yellow goes well with blues

Warmer tints go great with the red family.

Accent colors Reds and just a touch of Black.

Good for northern exposures.  Keep it light and don't over do it!

Creamy yellows, warm gold's make a room appear brighter and larger lending a comfortable appearance to the room.
WHITES
White will always make a room appear larger

Consider using soft tint colors on walls and moldings

which will make the room more appealing and inviting.

White is a good color for making dark hallways brighter looking.
NOTE: Your area lighting will change the appearance of the colors you choose.
Daylight, florescent, track lighting, incandescent lighting give different shades of colors. Be sure to check your colors in the lighting you have in your home.
An easy way to decide on a decorating colour scheme is to examine and select a print fabric, or use existing furniture or wallpaper.   You will quickly see the colour schemes.  Here are just a few I found  by looking at fabric swatches. Choose 3 colors. If you are not using wallpaper use the lightest color for your walls, medium tones for your large furniture pieces and window treatment. The darker tone can be used for accents.  For that little extra touch, add fringe to pillows, curtains, throws in either a contrasting or matching tone. Adding flowers, plants, candles, decorative vases, pictures, collectibles etc. all add to the overall decorating theme.  Match your sofa color to the wall color to make things blend and make the sofa seem less bulky.
Sage green




rose




pink




beige

Hunter green




burgundy




blue

Black




aqua




peach




paprika




gold

Terra cotta




sage green




purple

Red




gold




yellows




black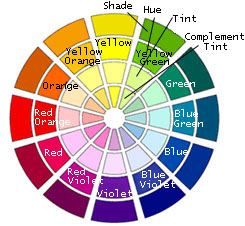 As mentioned before, take note of how green shows up in most decorating color schemes. Using color wheels and charts can show you how to blend, mix and contrast these colors.
It details the hue, tint and complement tints. Then you can also consult the next chart and it shows contrasting colors.  By using these interior decorating ideas you will be able to decide on pillows, curtains, area rugs, candles and other accessories to pull the room together.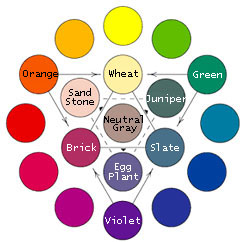 Don't forget about paint. A fresh coat does wonders for any room as well as using painting ideas such as textures or painting one wall a different color. Using wallpaper is another great way of bringing color and interest into a room.