Bedroom design: bold or natural?
Tags:
Bedroom
,
bedroom decorating
,
colors
A few months ago, Pantone announced that Emerald is 2013′s Colour of the Year. The energetic shade is great for waking up your kitchen and living room, and if you enjoyed. Oz: The great and The powerful, you can pretend that James Franco had a say in it, but is it too loud for your bedroom?
The bright green really suits current needs for gadgets in the bedroom. Things like mini fridges and big surround-sound systems for your TV that will give you the cinema experience while you chill. It's that idea of luxury and excess that suits the colour scheme and people's need to use the bedroom for things other than sleeping. But what if youdo just want to sleep in there? If you want a natural place that's stripped back and distraction free, then you'll want a bedroom design to suit that.
The so called Artisan colour scheme is another design trend this year, and features a more earthy and warm pallette, and, if you're an explorer or collector of odd items, it "creates the perfect background for treasured antiques and eclectic finds." Perhaps you find yourself the Ernest Hemingway type, or you just prefer it to the brighter fashions this summer, but one thing is for sure, the more natural looks means you can lower your budget for redecorating.
A great starting point for your new change is the bed itself. Natural or darkened wood frames will help give that 'well-travelled' feel, and be a good focal point for the room. There are a good range of wooden beds at www.bedroomworld.co.uk, and from there you can work your way out to the rest of the room.
Make sure you consider the layout, as well as the colour, to keep that feeling of calm consistent. Feng Shui writer Terah Kathryn Collins has a few guidelines inFeng Shui A-Z, that, interestingly, go against the idea of having a bedroom packed with gadgets and interactive objects that the Emerald colour scheme seems to play to:
Remove all excess items such as exercise equipment, desks, computers and other "active" furniture. If you must have these items in your room, place them far from your bed and cover them up when not in use.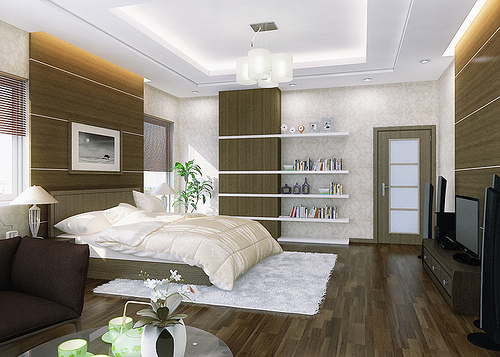 The most important thing to realise is that these two contrasts in design are less about your favourite colours, and more on what you want your private space for. There is no good and bad choice, as they are both very accomplished ideas, but if you want somewhere to let go of all the tech of your day, then the natural, wooden look is the one for you. Once you've figured that out, you can start making changes, and then, only when it's finished, you can sleep on it.